It has been possible to make batch changes to CiviCRM data using VBO (Views Bulk Operations) for a while but I only just got around to implementing it for a customer so I am taking the chance to document what I did here!
The recipe is basically
- install civicrm_entity version 2.x & vbo
- create a View
- add and configure the desired 'bulk operation'
And, setting up a View with a bulk operation to modify Relationship End Dates was pretty much that easy
Install CiviCRM Entity version 2.x
https://www.drupal.org/project/civicrm_entity
note that by default you will get 1.x if you 'drush dl'
make sure you clear caches afterwards very thoroughly - especially if upgrading from 1.x
version 2.x includes a bunch of functionality around Display Suite contributed by Mark Hanna. It also exposes CiviCRM Entities as Content Types. I haven't explored all of this stuff fully
Create a View
Below is a shot of my resulting Views page display. This View was based on CiviCRM Relationships
Note the operation is visible here
Adding bulk operations
Bulk operations are added via the 'Add fields dialog' - choose a bulk operations option as in the picture
Set the Bulk operation to be 'modify entity values' and choose the 'properties' you want to be modifiable. You probably want to override the label too.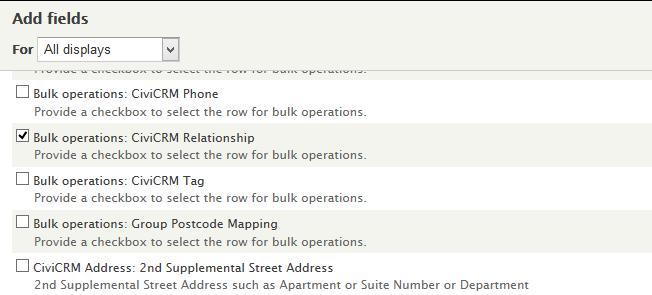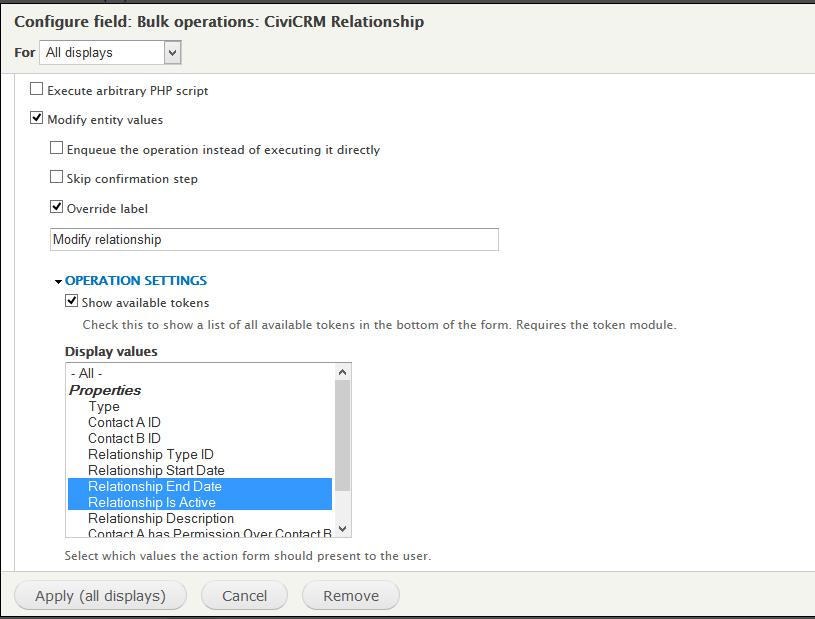 Here is how it looks when they fill it in

Cautions
It's not terribly clear what should be filled into those fields - ie. is active should be 0 or 1. It might be better to create a rules component to help your users in some cases.
Here is the feature in this example
https://github.com/eileenmcnaughton/feature_manage_relationships_vbo